Yes, we've wrapped up WAPCon2018. The theme was Back to the Future. We thought it would be great if agents could learn cutting edge 2020-ish information NOW in 2018. Why wait to be smarter? Here are Paul and Mari putting this vision's pedal to the metal:
And, head Back to the Future we did, as our dynamic keynote speaker, Jeff Fox kicked things off with his "State of the Medicare Marketplace" presentation. We then headed to carrier rollouts, followed by our lunchtime keynote by Tim Brousseau, "Shopping Switching Trends." The afternoon was packed with additional presentations designed to maximize knowledge of carrier products and insurance marketing strategies. Friday featured "The Clocktower – Lightning Rounds" with Medicare thought leaders. And, of course we can't forget The DeLorean – which came all the way from Universal Studios just to pose with our WAPCon attendees.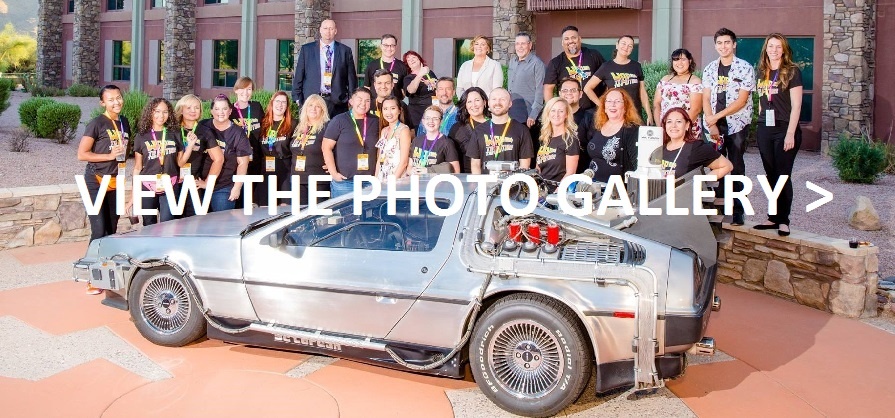 With 430+ agents and 100+ exhibitors in attendance, this year's event was bigger and better than ever before. One theme stood out: Medicare Insurance is Trick, Trick, Tricky!
Paul Rose, Tim Brousseau of Deft Research and the WAPCon break-dancers made that fact crystal clear!
And TRICKY is exactly why WAPCon is so important. Like a modern flux-capacitor, WAPCon transports us into the future, providing an unprecedented opportunity for carriers, agents and health care providers to get on the same page, increase their understanding and serve consumers better than ever before.
We give a special shout out to all our sponsors for helping us to achieve 88 MPH. Thanks for believing that "where we're going we don't need roads!"
Platinum Sponsors: Aetna, Allwell, Bright Health, Cigna HealthSpring and Humana
Gold Sponsors: AgencyBloc and UnitedHealthcare
Silver Sponsors: Care1st Health Plan of Arizona and Steward Health Choice Generations
Bronze Sponsors: Bankers Fidelity, Brokers Alliance, Cigna Medical Group, Deft Research, Guarantee Trust Life, Iora Health, Mutual of Omaha, MyDental Dentistry & Education, Optum, SilverScript, Delta Dental and Target Leads
Community Sponsors: FSL, SSA and United Food Bank
We also congratulate our top-performing agents and agencies who were recognized at the annual Awards Banquet the night before WAPCon.
Key / star partners included:
Diane Ayers, Ellen Baca, Tina Borges, Martha Branham, Karen Davis, Randy Ducosin, Lisa DuVall, Dan DuVall, Jim Ford, Michael Ford, Nancy Foxen, Victor GasparDeAlba, William Hauenstein, Karen Helton, Maurena Howe, Maggie Kapur, Sonny Kapur , James O'Neal, John Pinto, Diane Prentice, Chris Quandrini, Steve Rhoads, Steven Smith, Michael Spignor, Natalie Toalson and Allen Underwood.
Top agents and agencies by carrier were:
Aetna: Helen Walker and Pellegrini & Associates
BCBS – MAPD and Med Supp: David Schaeffer – MAPD Agency - Senior Solutions of AZ / Med Supp Agency - 123Easy Insure
Bright Health: Ricardo Diaz and Statz Agency Inc.
Cigna MAPD: Lynn Marble, Senior Solutions of Arizona
GTL: Aaron Matheny, Phoenix Health Insurance
Health Choice MAPD: Cameron Cook, The Medicare Shoppe
Humana MAPD: Nat Pellegrini, Pellegrini & Associates
UAHP MAPD: John Jeffrey, Jeffery Insurance Solutions
UHC MAPD: Raul Hernandez and Jeffery Insurance Solutions
UHC Med Supp: Debra Landers, Pellegrini & Associates
Overall top agent: Debra Landers
Overall top agency: Pellegrini & Associates
Congratulations to all of you! You are living proof that "if you put your mind to it, you can accomplish anything!"
In summary, WAPCon2018 was a major success, thanks to all the sponsors, presenters, exhibitors and participants! Thank you! This event is proof that "Where we're going, we don't need roads." Collectively, we are trailblazers, and we aren't afraid of walking a new path in the quest to serve customers better.
Are you looking forward to WAPCon2019? So are we!
We'll be in touch soon with information on the next year's event!