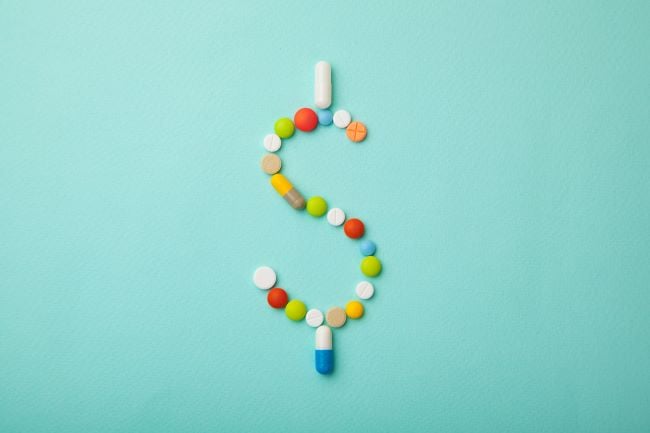 If inflation and rising prices are impacting your ability to pay for your prescription drugs, you are not alone. Financial assistance is available for those who qualify through the Low Income Subsidy (LIS), also known as Extra Help.
What Is Extra Help?
Extra Help is a program administered through the Social Security Administration (SSA) that helps pay some or all the costs associated with your Medicare prescriptions, including premiums, deductibles, and copays. To be eligible, you must be enrolled in Medicare Parts A and B and you must have limited resources and income. There are two levels of Extra Help: full and partial assistance. For those who qualify, the savings can significant – up to $5,300 per year.
Who Qualifies?
You automatically qualify for the LIS if you either:
If you do not automatically qualify, you must meet income and resource guidelines to be eligible.
2023 Income and Asset Limits: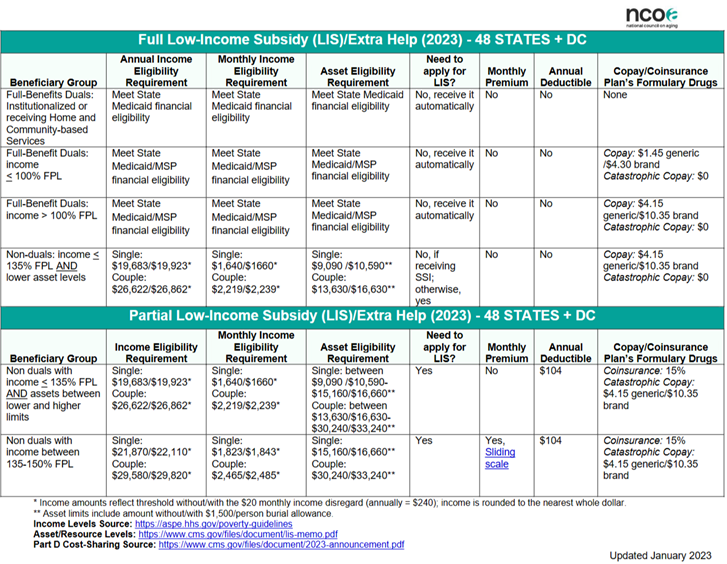 What is considered an asset or resource?
For the purpose of LIS qualification, the following items are considered assets or resources:
Real estate other than your primary residence
Bank accounts – checking, savings, and certificates of deposit
Stocks and bonds
Mutual funds and IRAs
Cash
You are encouraged to apply even if your income or assets are above the eligibility limits because certain types of income and assets may not be counted.
How to Apply
You can apply for Extra Help once each year. There are three ways to apply with the SSA:
Over the phone at 1-800-772-1213
In person at your local Social Security Office
After you apply, you will receive a letter from the SSA letting you know if you are eligible for the program. If you qualify and aren't already enrolled in a Part D prescription drug plan, you can select a plan and enroll with no late penalty. If you don't select a Part D plan, the Centers for Medicare and Medicaid Services will select one for you.
What to Do If You Lose Eligibility for Extra Help
There are several ways you may lose eligibility for Extra Help. For instance, you may no longer qualify for Medicaid or a Medicare Savings Program or you may no longer receive SSI. In any of these circumstances, you will receive a letter in the fall explaining that you won't qualify the following year. You will receive an application for Extra Help with the letter. If you believe you still qualify, you should fill out the application and return it as soon as possible to avoid gaps in coverage.
Once you receive Extra Help benefits, the SSA will periodically review your eligibility to make sure you still qualify and are receiving all the benefits you are eligible for. If you are selected for review, you will receive a form from the SSA asking you to reverify your income and assets. Once the SSA has reviewed the forms, you will receive a notice explaining any changes. Your benefit may stay the same, increase, decrease, or be denied.
How to File an Appeal
If the SSA denies your Extra Help application and you disagree, you have two opportunities to request your case be re-examined.
Before your application is denied, you will receive a Pre-Decisional Notice explaining the reason for the denial. If you believe the denial is based on incorrect information, you can correct your application. You have 10 days from the date on the notice to make corrections.
When a final decision is made, you will receive either a Notice of Award (stating if you qualify for full or partial benefits) or a Notice of Denial. If you disagree with the decision, you can file an appeal to request a hearing by calling your local SSA office or the national hotline, at 800-772-1213.
Please reach out to your clients who may qualify for LIS. Have questions? Our experienced and knowledgeable team is here to help. Call Western Asset Protection.