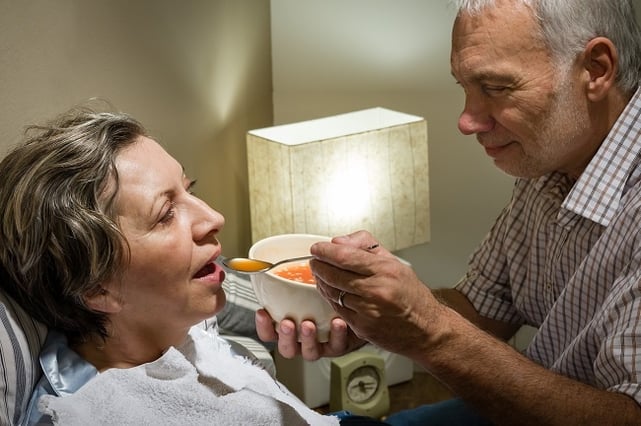 Do you have clients or family members who care for an elderly or disabled loved one? Then you'll relate to the facts we're about to share. Caregiving is stressful work! Below, we share the signs of caregiver burnout along with four ideas to help caregivers take better care of themselves.
The Facts on Care Giving
According to the U.S. Bureau of Labor Statistics, 40.4 million people over the age of 15 provide unpaid eldercare. Of these people, 17 percent are age 65 or older. In this age group, 29.3 percent are caring for a spouse or unmarried partner, 19 percent are caring for a parent and 33 percent are caring for a friend or neighbor.
Despite a loving relationship, the work can be taxing. According to the Pew Research Center, 88 percent of caregivers say that providing help is rewarding, but 32 percent admit that it is also stressful.
Signs of Burnout
WebMD defines caregiver burnout as physical, emotional or mental exhaustion accompanied by a new attitude that is negative or apathetic. People experiencing caregiver burnout may display a number of symptoms, including changes in sleep patterns; feelings of sadness, hopelessness or irritability; being more susceptible to illness; and excessive drinking. Many of the symptoms are similar to the symptoms of depression.
Providing care to dementia patients can be especially stressful. These caregivers may have trouble dealing with their loved one's memory loss. They may also be on the receiving end of a dementia patient's anger or aggression.
Four Ways to Help Caregivers to Take Care of Themselves
Caregivers are busy people who often don't raise their hands to say, "I need a break." If you know a caregiver, offer to provide some periodic relief, or to hire a professional caregiver to step in occasionally.
Personal Time: Although caregivers may feel guilty, taking personal time is not selfish. If caregivers do not take care of their own needs, their burnout may prevent them from providing quality care in the future. It is best for everyone involved if they take some time to maintain their friendships and hobbies.
Support Groups: Caregivers can join support groups either locally or online. The Family Caregiver Alliance has an online tool to help caregivers find support groups in their area. It can helpful to talk to others going through similar circumstances and dealing with similar emotions and strains.
Resources: The National Institute on Aging and the Alzheimer's Disease Education and Referral Center maintain a list of resources to help individuals caring for dementia patients.
Assistance: Some caregivers take on more work than they can handle. They may be able to enlist the help of other family members, paid caregivers or local organizations.
Pass this article on to the families you serve, and help them brainstorm ways to nurture the caregivers in their lives. Have caregivers in your own family? Appreciate all they do and help them take care of themselves!